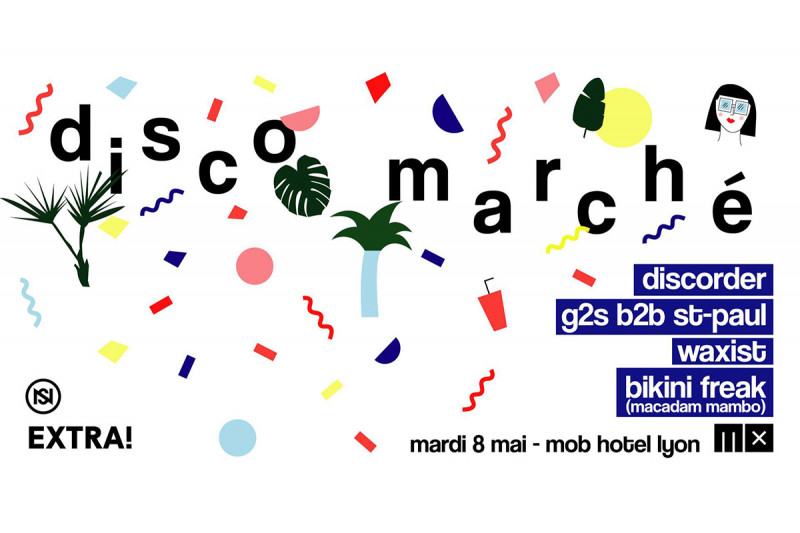 Extra nuits sonores - Disco Marché
May 8, 2018 | From 2:00 to 9:00 pm
Live
Extra! Nights 2018!
# DiscoMarché is an event hosted by Make x France and MOB HOTEL Lyon!
For a day, we will appeal to the sense of each, taste, hearing, touch, smell and sight will be called in the different spaces of Disco Market. You will find at MOB HOTEL several stalls:
> The terrace
There you will find a scene dressed in fruit crate, vegetables and vegetation. On the program, the local disco will be in the spotlight with:
> Waxist
SC:
https://soundcloud.com/waxist-selecta
> Freak Bikini (Macadam Mambo)
YT:
https://www.youtube.com/watch?v=nfRyCru3-PE
> St Paul vs G2S
SC:
www.soundcloud.com/stpaulmusicprod
SC:
https://soundcloud.com/g2slyon
> Discorder
SC:
https://soundcloud.com/discorder-and-shit
> The odds and ends
Empty dressing, glitter stand and workshop created, everyone can crack for a little more to wear during and after the event!
> The chillodrome
Yoga sessions - relaxation - meditation offered throughout the day. "Ambient music" playlists will accompany these moments where each visitor will be able to take a moment of calm to be fit for the festival Nuits sonores 2018!
> The bistro
Located within the grounds of the Mob, in the main room, the Bistrot showcases local products: brunch formulas, pizzas, hot dogs or organic fruit salads to share.
> The refreshment room
At the bar you will find smoothies, sodas, tea, organic juices, organic wine and beer!
> Games like table football, molkky, ping pong are also available!
Free event!
More information soon.