MOB, MOB CARES
Our vision of progress revolves around social ecology. We have designed MOB as a multifunctional space that evolves according to customer expectations as well as social and societal changes.
MOB HOTEL has been designed for and with its guests. We like to define it as the MOB HOTEL-OF-THE-PEOPLE. A versatile living and meeting place that – seemingly contradictorily – is designed with ourselves and others in mind.
MOB CARES: social ecology in action!
Social and societal issues are at the core of our concerns. Some key players protest, others use argumentation for marketing purposes. But MOB acts!
Our actions
We have created a special team around Julie, who is in charge of the group's Corporate Social Responsability, to help us act in a results-oriented way. Julie is a gardener, plant grower and a passionate herbalist.
We sort, recycle and compost our waste.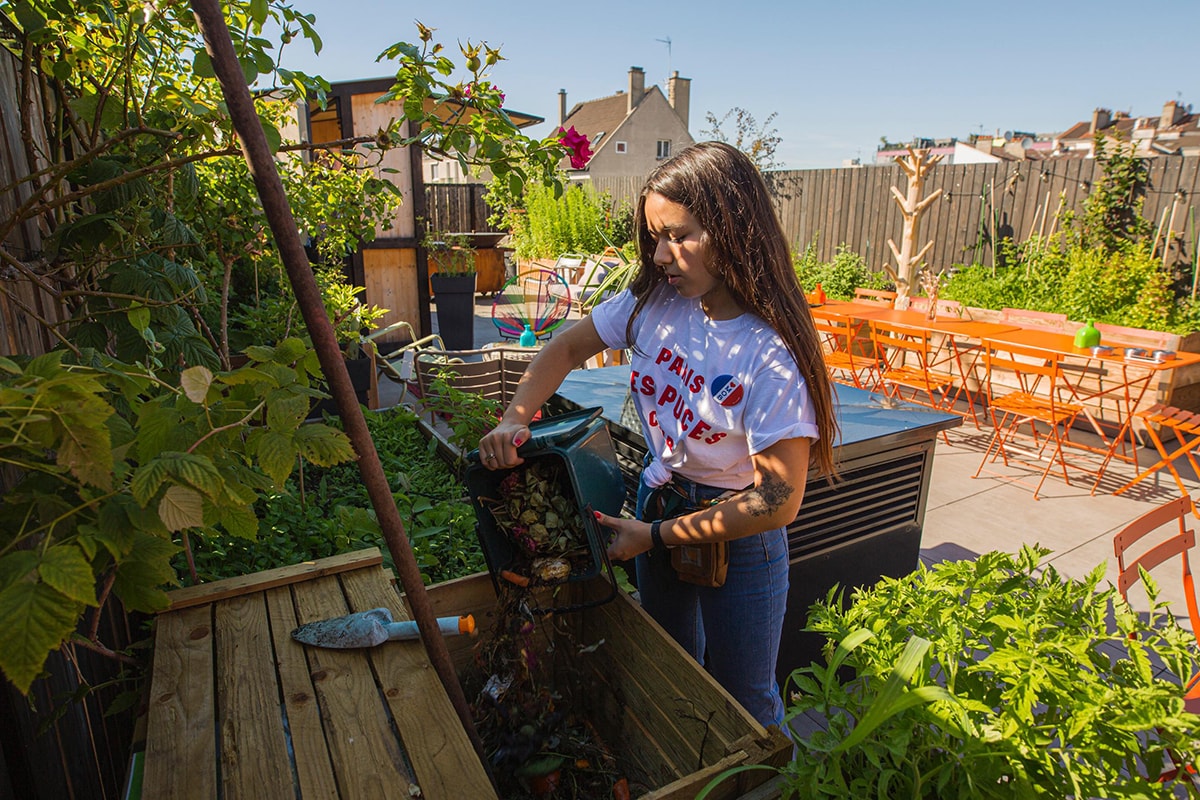 We've banned single-use plastic from the hotel. For example, we refill our pump-action shampoo and shower gel!
We work towards the local environment and biodiversity with vegetable gardens.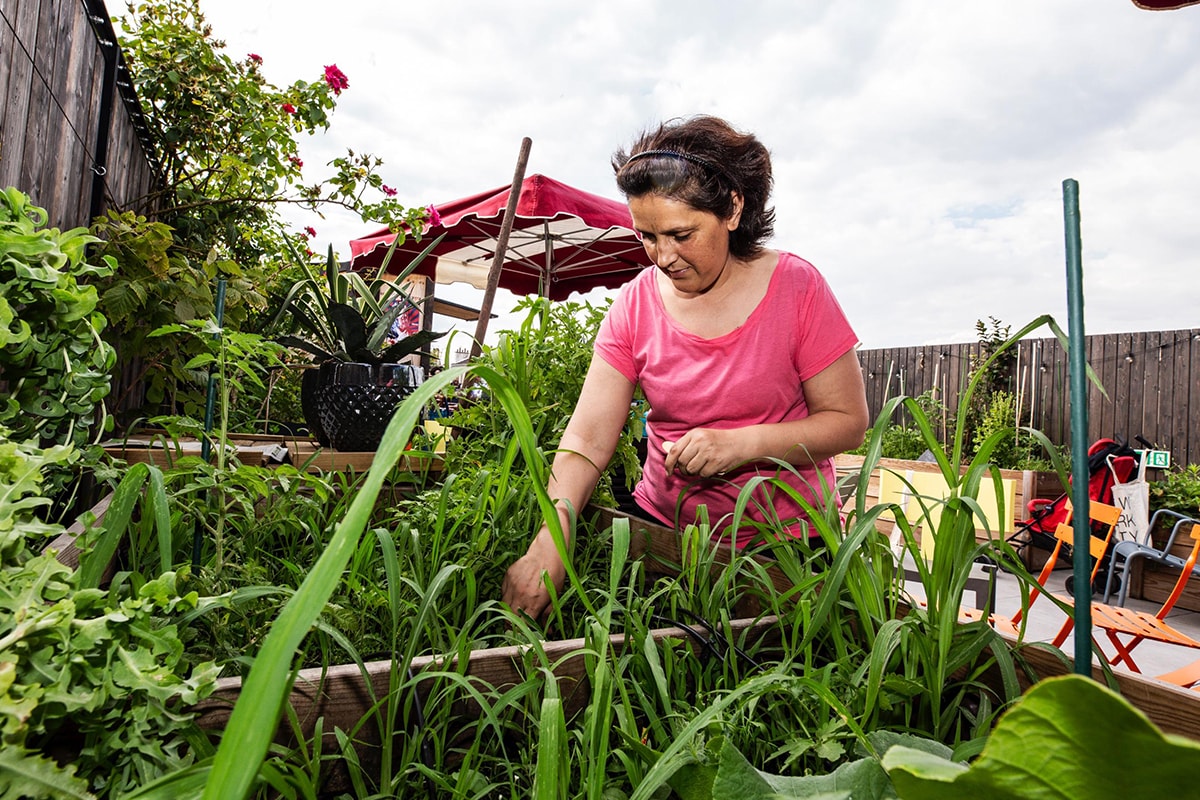 We grow our own herbs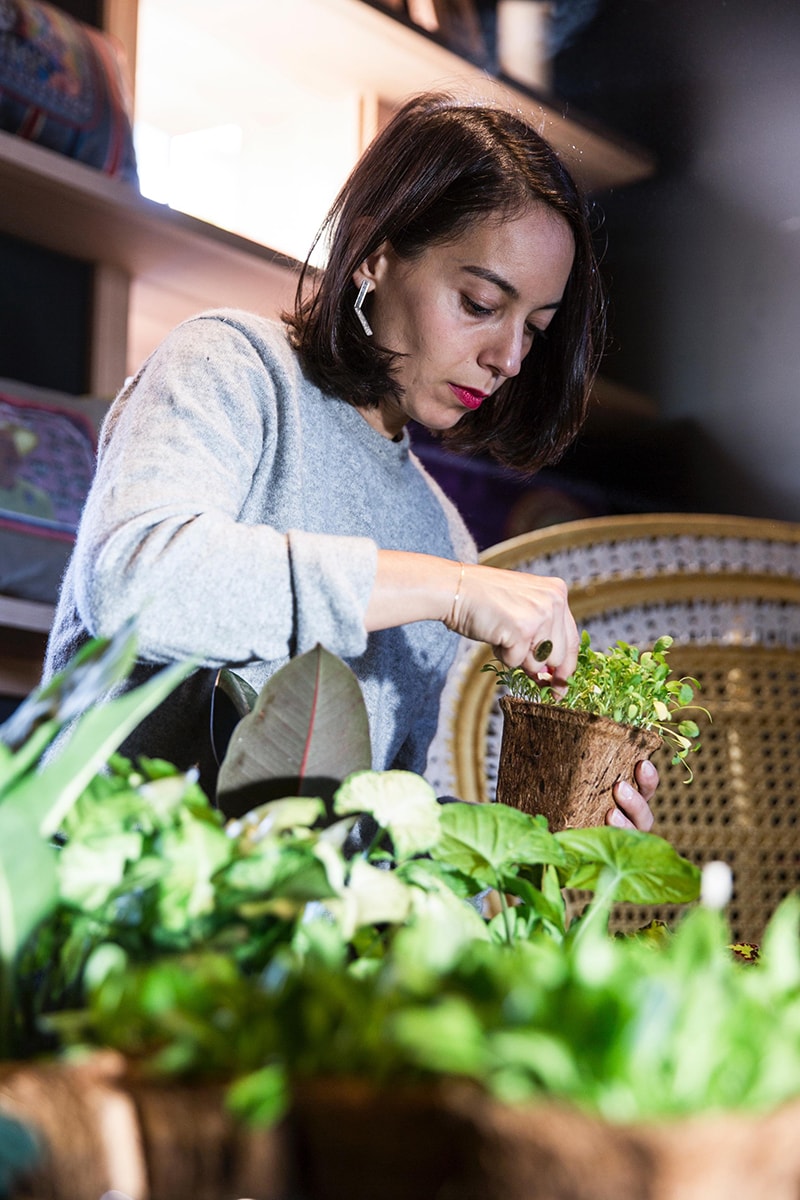 We set up bee hives on the roof (our first honey harvest could be used in the restaurant!)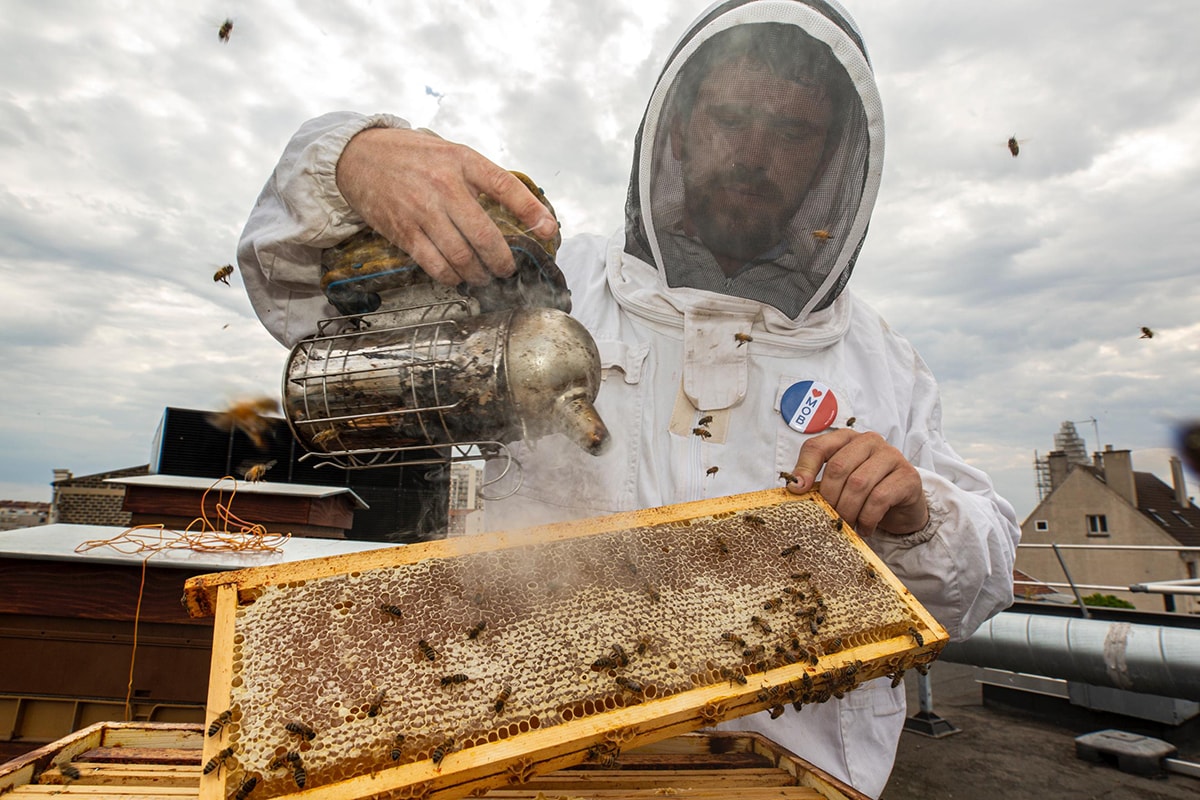 We make our own cleaning products according to a zero waste policy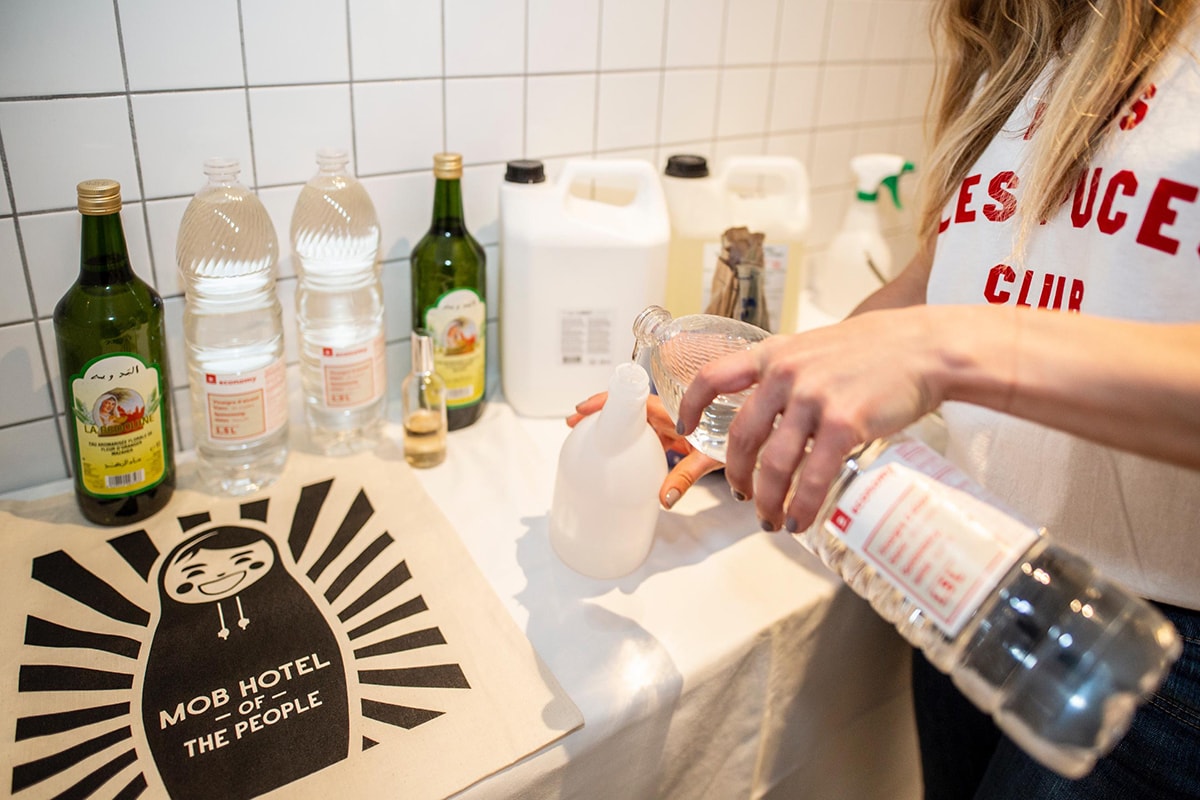 The surplus food from our "big Sunday meal" goes to Restos du Coeur
We use organic produce with short food supply chains with Biocoop and Ruche Qui Dit Oui! Order from local producers and pick up everything at our markets every other Thursday.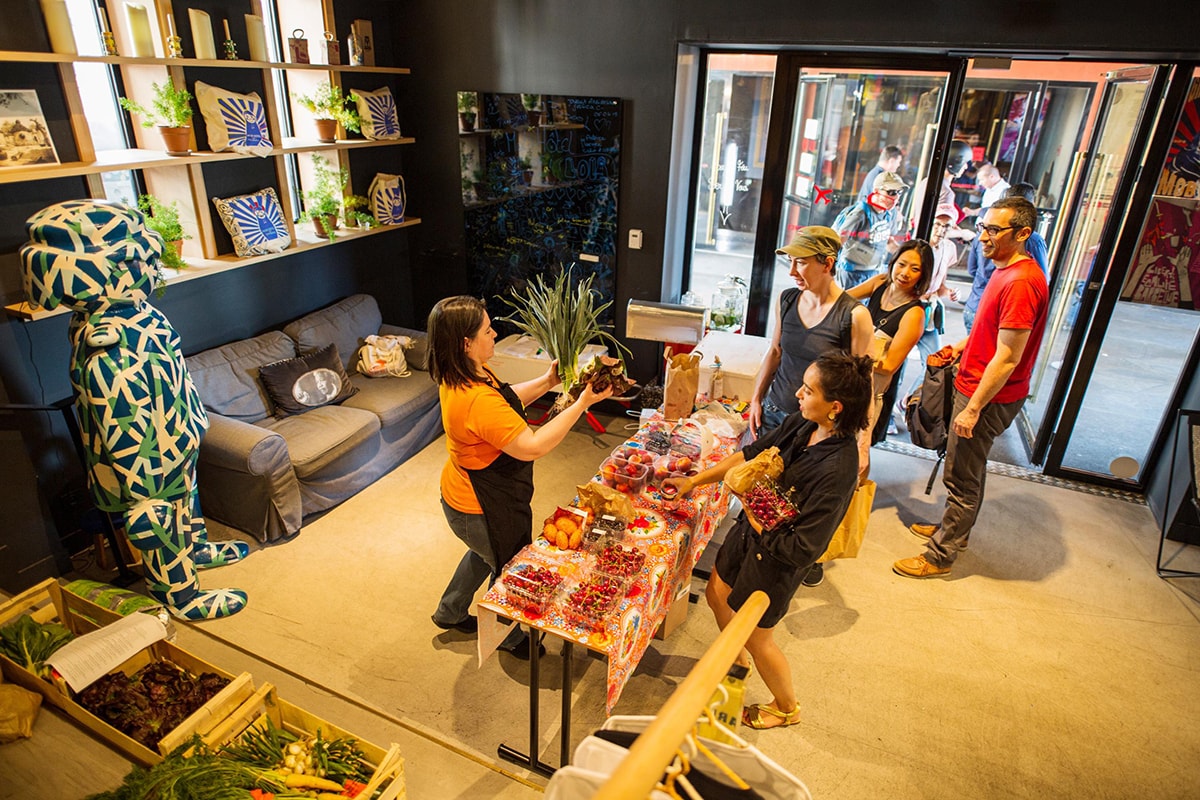 We're working on an organic, local and seasonal menu ensuring we reduce our carbon footprint as much as possible.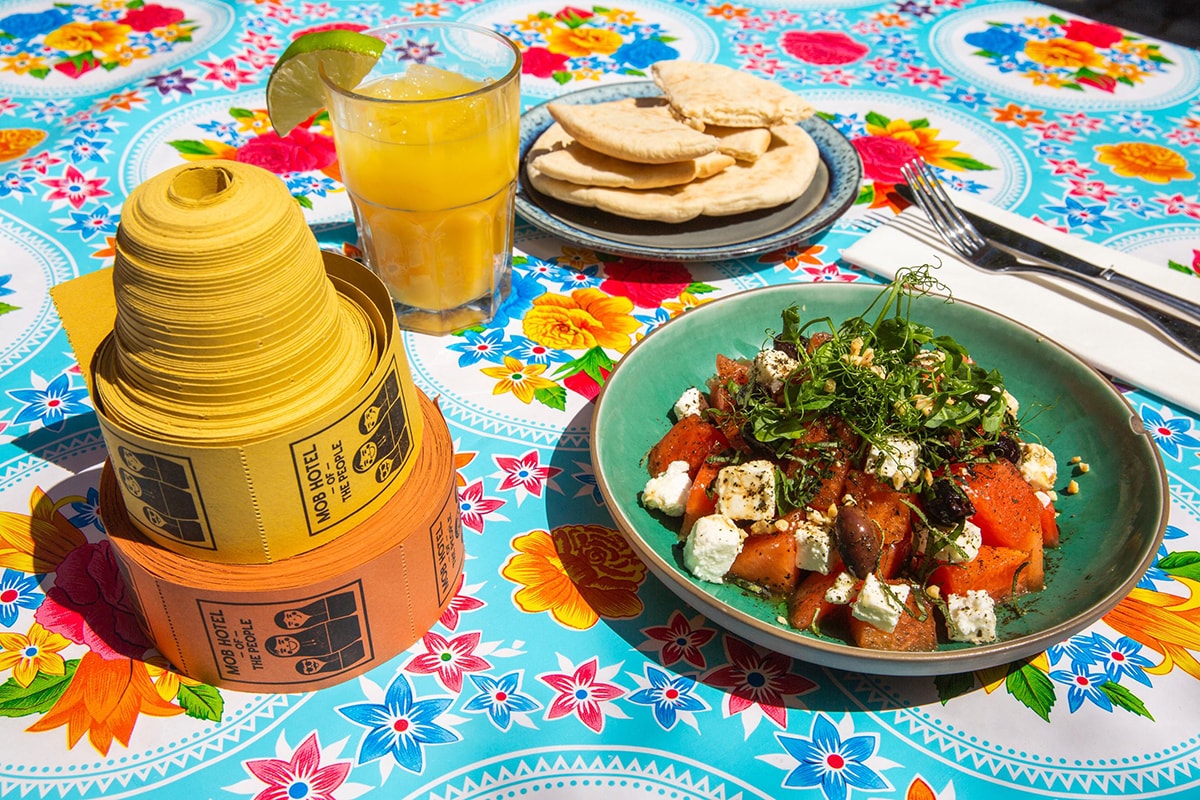 On a more festive note, we brew our beer in the Les Puces neighbourhood of Paris.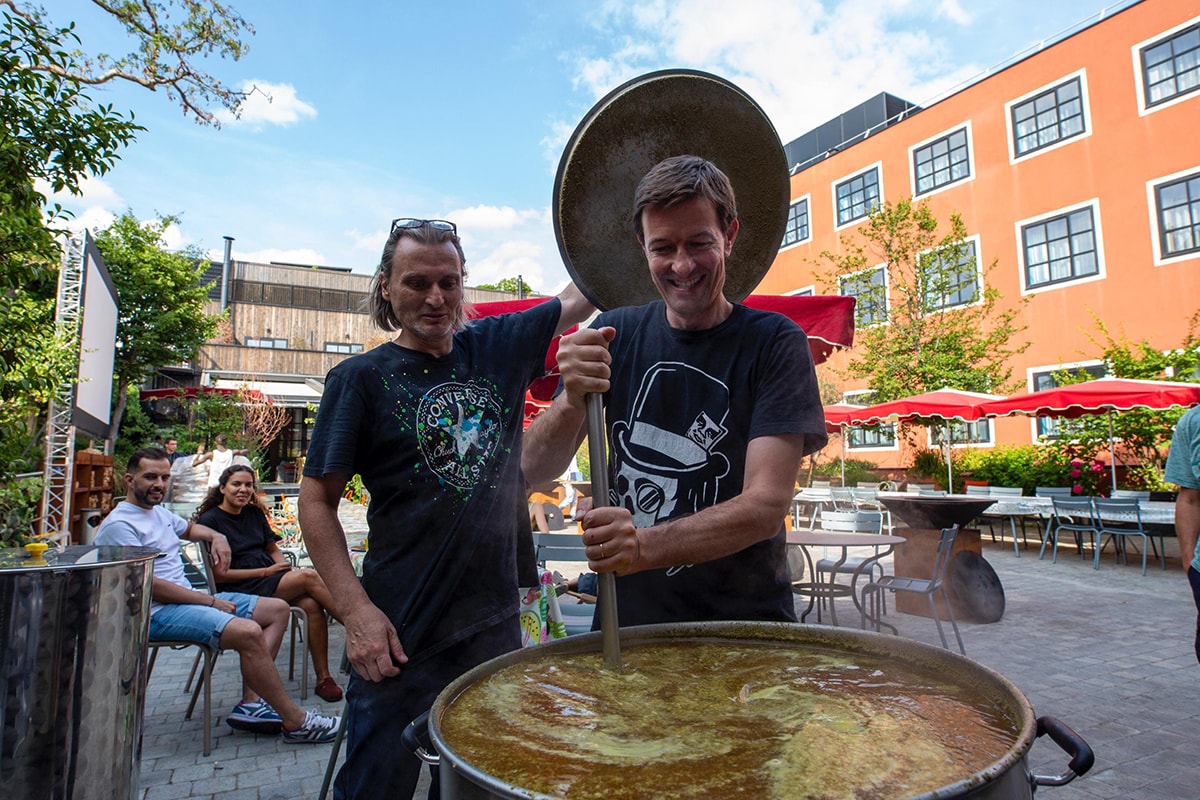 We support sustainable "slow fashion" via CASA 93, our fair-trade fashion school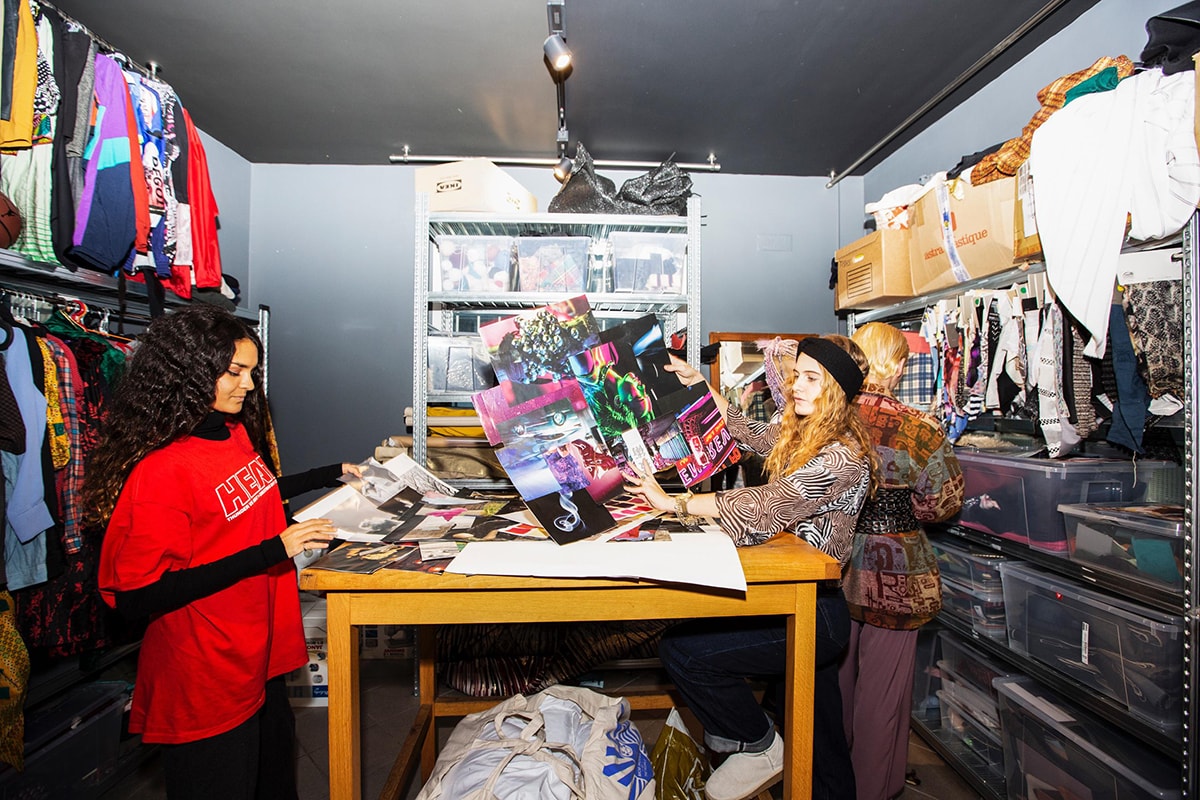 We support associations and missions, like the Potosi Mission in Bolivia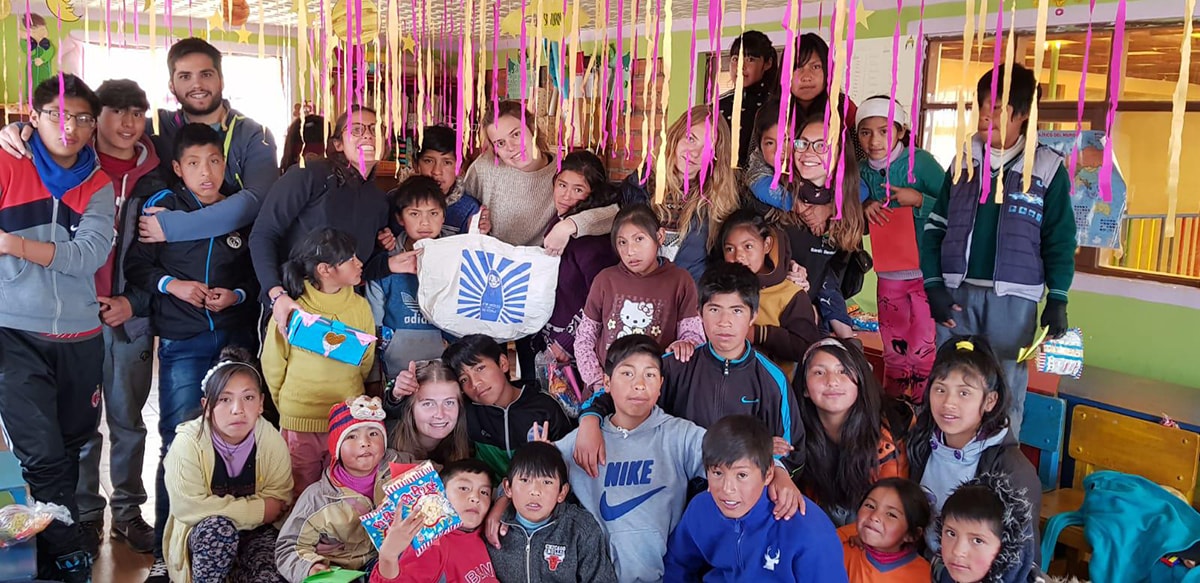 We support the Ibaba cooperative which backs initiatives and economic development through the work of women in Rwanda.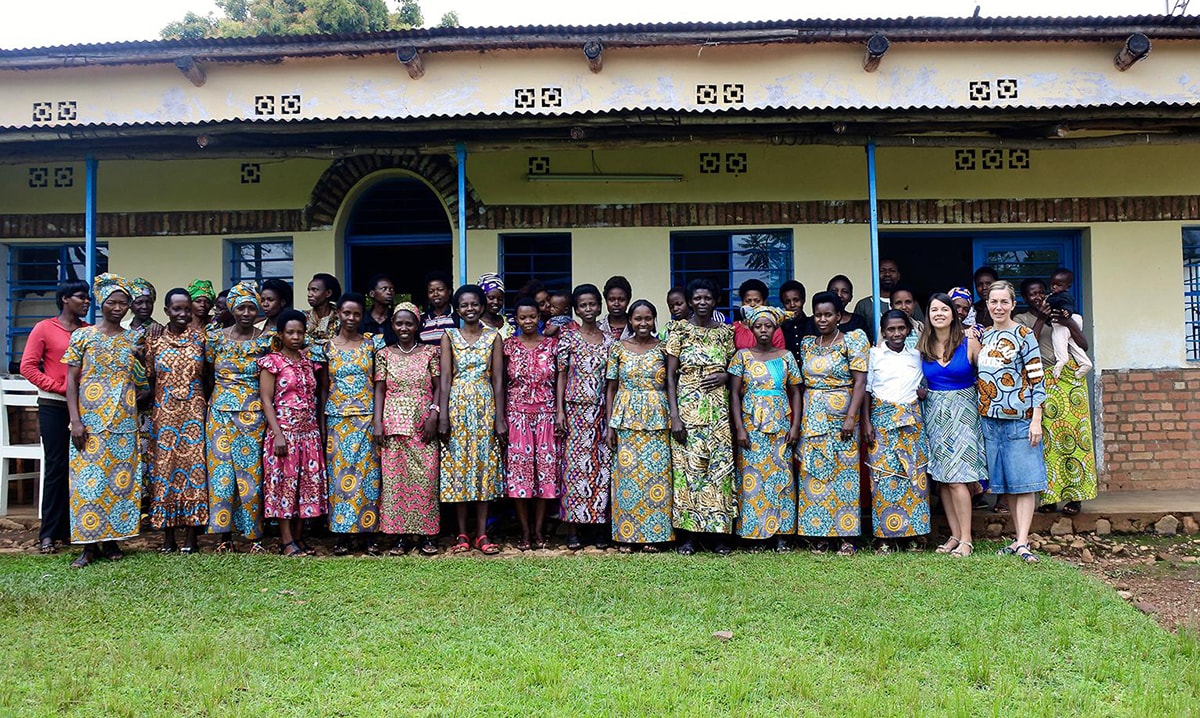 THINK HUMANITARIAN, SOFTEN OUR CITIES
A MOVEMENT BORN IN BROOKLYN, USA
The MOB adventure started with a vegan restaurant of the same name on Atlantic Avenue in Brooklyn, New York. It was started by a Frenchman who left his homeland for the US, and created what he called his "cabinet of curiosities". MOB, which stands for Maimonide of Brooklyn is therefore a French project which was designed and realised with passion, fervour and sometimes sheer stubbornness, by philosopher and entrepreneur, Cyril Aouizerate.
As the mastermind behind the project, he imagined MOB as a dream republic, a very real utopia where he could give tangible form to his convictions and feelings about travel in a lively, popular and cooperative space. MOB HOTEL is like home – all together.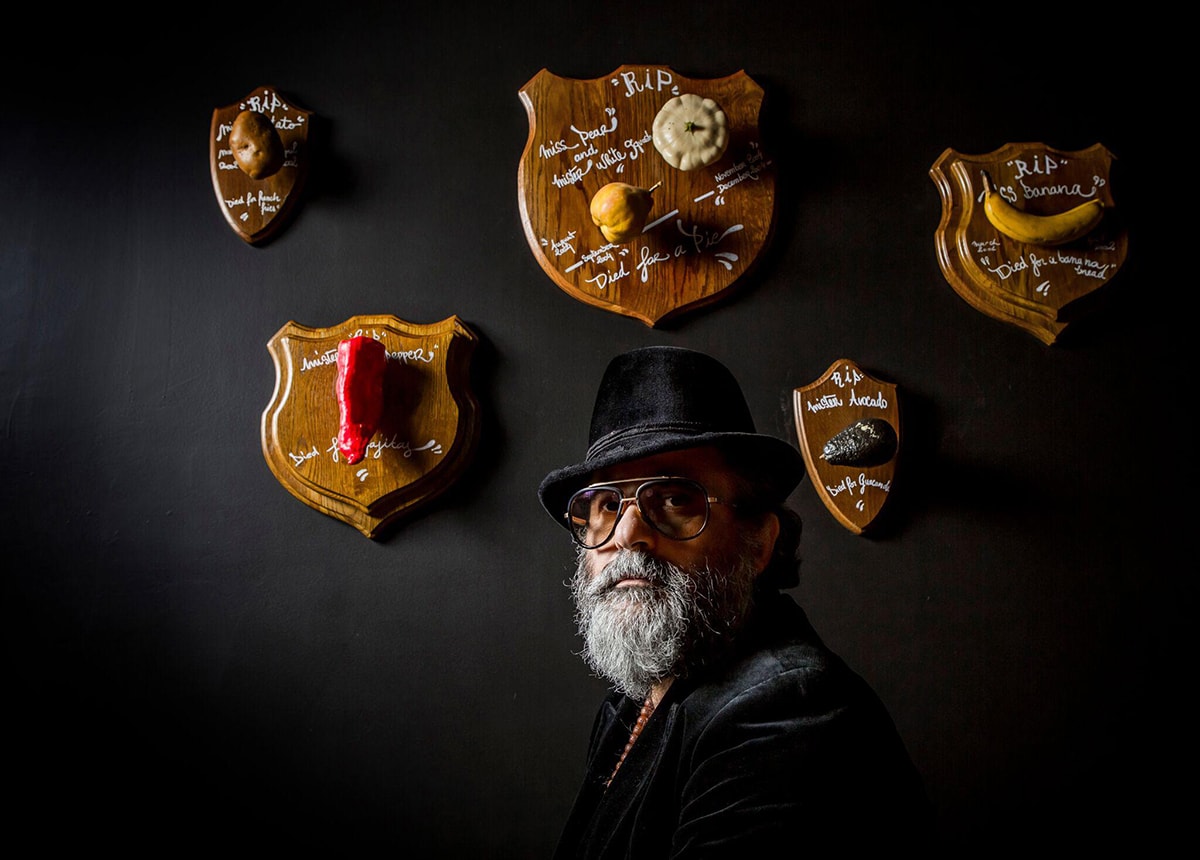 ETHICAL & CULTURAL EMBASSY
It is a polymorphous living space designed as an oasis for curious nomads. Palatial beds, an organic restaurant, a bookshop, a stage for live performances, pop-up stores, a cinema, gardens, terraces, allotments for local residents and a fantastic schedule of events that MOB HOTEL is so great at.
You know our passion for culture with the many live performances and private showcase events that MOB HOTEL has already hosted... We're thinking of Wyclef Jean from the Fugees, Bilal, Seun Kutti, Oxmo Puccino, Keziah Jones, Osunlade and Zuco 103, not to mention MOS DEF who decided to greet people and chat with them at reception before grabbing the mic...
We'll simply make a point about ethics, since human, societal and environmental subjects are important to us. Our commitment is tangible, with organic products in the kitchen and bedrooms, short food supply chains (Biocoop, La Ruche Qui dit Oui), waste recycling and other initiatives supported by the MOB CARES plan.
Certain convictions drive us but as we're only human, we recognise we can build on this even further. We invest in time and people to make MOB a sustainable, responsible project.
CONVICTION #1: SUSTAINABLE & RESPONSIBLE
Although some people are still questioning whether or not to choose organic, this question will no longer make sense ten years from now. Usually, we love to open up discussions and consider a range of possibilities, but here we recognise that we're going to be radical and close the debate. The MOB is and will always be organic, natural and respectful of both humans and the environment.
Also, Julie, who is in charge of the group's CSR strives every day to raise awareness and initiate new best practices. More especially, she has even given our surplus food a second life. The "big Sunday meal" is now donated to Restos du Cœur. She also set up beehives on the rooftop. To date, we cannot offer you any of our little pots of honey but soon you'll be able to enjoy sweets and treats from our first harvest.
MOB HOTEL has approached Yann Arthus Bertrand's Good Planet Foundation to raise awareness and act practically. Some of their tools are truly valuable. On our side, we use their food calendar on a daily basis. And yes, our menu is organic, local and in season. We try as much as possible to reduce our carbon footprint by respecting the seasons and avoiding red meat. Want to try?
CONVICTION #2: ALWAYS CHOOSE DIRECT & SHORT FOOD SUPPLY CHAINS
Whenever we can, we get our supplies from the most local producers. Incidentally, the friendly cooperative Biocoop chain has helped pave the way for us. We're now delighted to be able to source from agricultural co-ops, provide fair pay to farmers and welcome La Ruche Qui Dit Oui several times a month.
The poultry we serve comes from the La basse-cour Bio in the Rhone area and from La ferme des Vallées in the île de France region. Obviously, quantities are limited but this is a good sign of sustainable and reasonable agriculture.
On a more festive note, we work with local brewers from Saint-Ouen Brasserie Urbaine at Paris les Puces and we'll introduce you to the marvellous wines from the Rhone Valley in the Lyon Confluence area. Our menu is based on the local produce. Also, if you have any rare pearls to introduce us to, let us know! We're always open to suggestions!
Our neighbours have allotments on the roof. They'll be happy to introduce you to urban culture during your visits if you wish!
CONVICTION #3: TRANSFORM PRACTICES
We're eliminating plastics from the hotel and choosing instead to use high-quality materials with a lifespan of more than a few minutes. We want simply to reduce the hotel's ecological impact by taking the small simple initiatives for which we're all responsible. Bulk-buying, recycling, waste recovery, manufacture of our own household cleaning products, etc. MOB's up with the times... If you have any new ideas, don't hesitate to share them, in a spirit of collaboration, by writing to us at [email protected].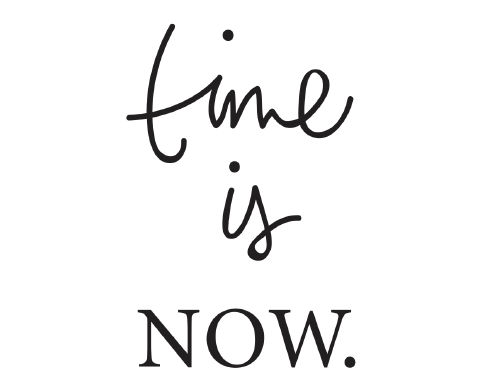 CONVICTION #4: EDUCATE & MAKE A STAND
Don't look for TV at our hotel – you'll be disappointed. On the other hand, we do offer paperbacks, literary or ecological talks, arthouse films, DIY owrkshops and more. With MOB, culture is not a DJ hopping about. Above all, it's a reflection on new cultural paradigms such as educational schemes, open-air cinema, comic-book co-productions, MOB radio, UNPLUGGED, supporting books... Culture is polymorphous, just like us. It awakens our minds and stirs up our sense of adventure. Also, street libraries are about to be set up soon. Come, pick up and read. Non-commercial culture is our obsession.
CONVICTION #5: DISCOVER AND SUPPPORT NEW ASSOCIATIONS
We are uniquely involved in supporting Casa 93, the fair-trade fashion school housed at the MOB HOTEL, and in collecting donations for the Potosi mission. We wanted to take things further and multiply initiatives by diversifying our actions.
MOB CARES.