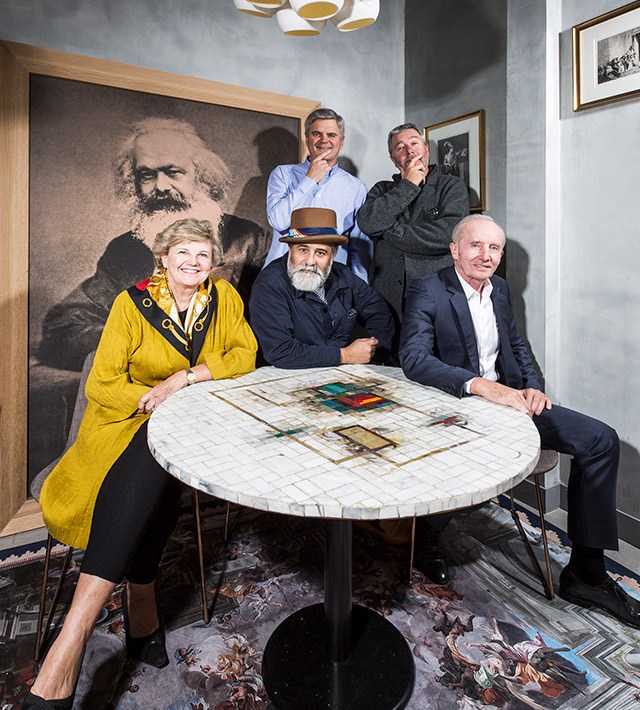 The brief history
There is a story in History. It all started with the creation of a restaurant in the heart of cosmopolitan Brooklyn (Boerum Hill) on Atlantic Avenue. By the end of 2011, it had become the meeting place for creative communities both in the cultural field and in organic agriculture.
Soon, its founder, Cyril AOUIZERATE, felt the desire to pursue this approach through his personal obsession and area of expertise: the Hotel. Having already founded the MAMA SHELTER hotel chain (in which he sold his shares just before the entry of the ACCOR multinational group), Cyril started by persuading his historic partner Michel REYBIER, faithful associate and highly successful entrepreneur, to join him in this ambitious venture. Then, everything went fast forward when the famous founder of AOL (AMERICA ONLINE), Steve CASE, contacted Cyril to state his wish to be part of a hotel project alongside him. Philippe STARCK, Cyril's ally and friend, dreaming of new openings, rapidly made the same decision. Glyn AEPPEL, a former partner of Standard Hotels, who passionately invests in visionary hospitality entrepreneurs, also approached Cyril about joining his innovative movement.
The partners rapidly began meeting, sharing, planning and bubbling with ideas. At the instigation of Cyril AOUIZERATE, a book, "MOB préface" put their intuitions and wishes into words. Two locations were carefully selected to house the first MOB Hotels: Les Puces in Paris and Confluence in Lyon. Others were to follow quickly, in Washington DC, Los Angeles, Pittsburgh and Rome.
The full Story
The essence of MOB HOTEL is translated into visual, sound, olfactory, taste and tactile identities. MOB HOTEL is designed around poly-sensoriality. It begins with the visual and spatial dimension of the hotel. The values conveyed through sight, sound and smell are an integral part of MOB HOTEL: hospitality and friendliness, pluralism and cultures, philosophies and knowledge, spirituality and tranquillity. The experience lived must be gratifying. These variables offer pleasure and satisfaction to travellers, both day and night, seven days a week.
Flight or quest, forced or free, travel brings exile. The flows are continuous, ceaseless; the hospitality, care for the other enable a better understanding of one's arrival, and a better understanding of oneself. This arrival is a visitation, an invitation, an incursion, a submersion. The loss of self in the other is complete. Exposure to the other, unpredictable in each individual, is foreign to any rehearsal and infinitely renewable.
Hospitality is at the heart of our consciousness. MOB HOTEL opens up a caring network : Bienveillants. The intuitions experienced and shared circulate within the hotel among guests, among those individuals who make up society and who inhabit MOB HOTEL. MOB breaks the mould of the contemporary meaning of the hotel, stating that hospitality is also a matter of synaesthesia and similarities: from meditation to cookery, from music to literature and from cinema to gardening. The ties are woven.
We are moving into an innovation community in which every idea is likely to be transmitted, received and accepted via open, interconnected platforms. The role of startups is fundamental in the creation of new connections within MOB Hotel, connections similar to the networks and interconnections in the human brain. Collaboration is an essential key to happiness. "This is not the wisdom of the crowd, but the wisdom of someone in the crowd. It's not that the network itself is smart; it's that the individuals get smarter because they're connected to the network." MOB Hotel offers a new environment, provides the keys to innovation, the tools for our own renewal.
The laboratory is designed to be nebulous. Habermas had already conceptualised the importance of the meeting to creativity and wellbeing; ideas bubble up and brains go haywire . People jump up and down, get excited and flutter about. To endlessly cultivate one's curiosity, remain alert, read, listen, meditate, talk with all kinds of people. Cultures combine, intertwine, reproduce. Time and space are ours, we are our own limit: our language, our knowledge supposedly acquired and finite, our field of experience, our spiritual strength which we believe to be limited.
MOB HOTEL is a prolongation; wellbeing and hospitality arise from the very fact that the hotel is ceaselessly reinventing itself. MOB Hotel is conducive to the emergence of new ideas, the sharing of cultures, the desire for change. "It is good to rub and polish our brain against that of others." stated Montaigne. MOB HOTEL is derived from deep reflection on the nature of hospitality and wellbeing, both individual and global, and on human progress. Today's host must be able to combine their modern sensitivity with the type of welcome required by our globalised, multicultural world - because welcome is the central problem of this nomadic century. It must be about enlightened nomadism without naivety. Although mankind has great freedom, if the defences come down, our security is also less strong. Faced with the freedom and great inventiveness of the shifting urban world, MOB Hotel is designed to be a place for travellers, for intense exchanges, that is free and comforting.
The creation of a peaceful environment for guests is, without doubt, the result of this interdisciplinary, collaborative work to construct the hotel experience and cultivate a genuine feeling of being deeply, warmly welcomed. It is essential to integrate the updating of the wishes and needs of individuals into this reflection, transcending any kind of rules of the marketing matrix.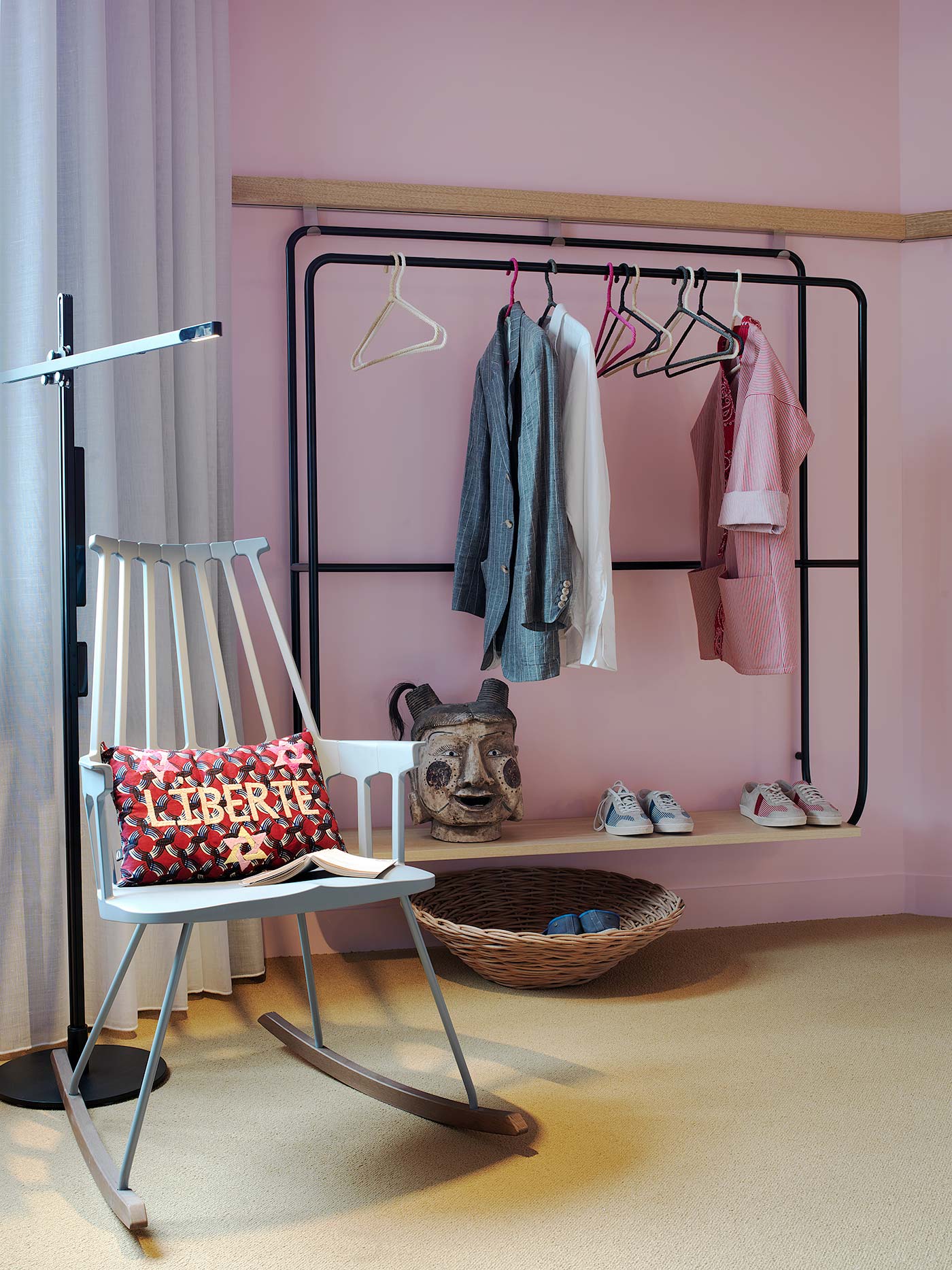 MOB HOTEL
A world of imagination. Tones and colours, a faint continuous murmur, a fragrance, a fantasy life, a dream. Sunrise and dawn, dusk and night-time merge.
A Story
A real utopia, an ideal republic, in a shared urban landscape.
A motif
Absolute porosity, from the local, social, cultural, disciplinary, artistic and philosophical points of view.
A positioning
Economical and high quality (€100 per night on average). MOB HOTEL is accessible. It is a fertile, healthy place. A restaurant with pizzas and salads to share (using ORGANIC products and a network of agricultural cooperatives) but also local food trucks. We begin with the story of the urban motel as a haven of peace and hospitality. The personal relationship to the luxury hotel is revisited: the guest experience is designed to be radically different, innovative in its caring for like-minded people. Creativity and innovation are not demonstrated via competitiveness, via achievement in terms of quantity or performance, but find meaning in the quality of the experience lived and felt by the guest, in the deep integration of the passions, cultures and values inherent in MOB HOTEL.
MOB HOTEL PARIS LES PUCES & LYON CONFLUENCE have been designed by Kristian Gavoille & Valérie Garcia.